Sallie's Fen Fibers,
LLC
Please contact Sallie Whitlow with any questions:

186 Swain Rd
Barrington, NH 03825
Phone: (603) 664-5237
email: sallie.whitlow@gmail.com

Directions to the mill



UPDATE

The mill is not accepting new customers at this time.


New pricing for processing will apply
to all fiber received after April 1, 2019

Order Form

INTERESTING WOOL FACTS
Click for details




Happy New Year and welcome 2021 from the mill. We are accepting fiber for processing. Please email or call to talk with us about sending or dropping off your fiber.


Customers are welcome to drop by the store as long as we have advance notice. We require masks and enforce social distancing protocol. We have yarn, roving, and a few hand knit hats and cowls, as well as some woven scarves.
Check out and like our new Facebook page, Sallie's Fen Fiber. https://www.facebook.com/salliesfenfibers
See updates posted about happenings in the mill, new products, and any event where we will be selling our products in the future.
We are planning to do a few "Fiber Pop-Up Shops" at Riverslea Farm in Epping, NH this spring. We will be outside, masked-up, and excited to feed your fiber stash. Dates and times will be posted on our Facebook page as we plan the events.
We have a store on Esty, salliesfenfiber. https://www.etsy.com/shop/SalliesFenFibers
Check out our alpaca and alpaca blends yarns for sale. Listings for roving are put up after we have processed a new batch of mystery roving. Like and follow our Facebook for updates to our Etsy store.
Stay safe and healthy.

About Us


We provide custom minimill processing of YOUR fiber
into beautiful yarn, roving, batts and bumps.


Sallie has been in love with natural fibers for as long as she can remember. She is a knitter and long-time hand spinner. She first became interested in alpacas (back in 1994) through working with their beautiful fleece. The mill mostly processes alpaca, but also processes other fibers including: wool, mohair, angora, and cashmere. The mill has been operating for 10 years and with time and experience we are better at producing an outstanding product. Each lot is processed according to its own merits.

If you are new to fiber processing and skirting your fleeces, please look at the links below for guidance and suggestions about how to properly skirt your fleeces before you submit them to the mill.
Alpaca: https://youtu.be/0vj3hH6qmsw https://youtu.be/1e66o4r_H9I

Wool: https://youtu.be/CgvOIMbKTFY https://youtu.be/eu3lgsAQjMw

Preparing your fiber (what WE expect)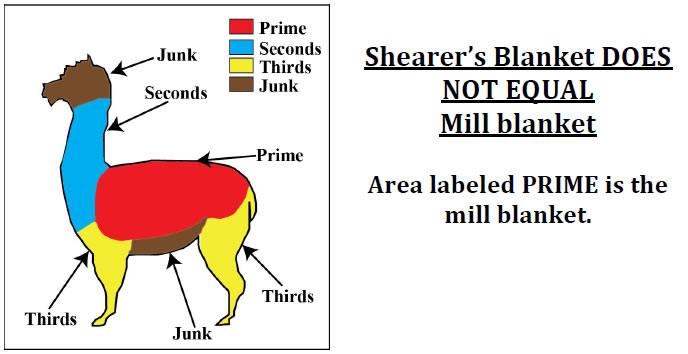 click image for more info
4 lb raw fiber minimum per lot for spinning. (For lots less than 4 lbs, the spinning cost will be for minimum 4 lbs)
Roving/batts/bumps please send at least 1 lb of raw fiber.
Staple length of fiber must at least 3 in but no longer than 6 in. See ruler on order form.
We expect all fleeces to be skirted. Do NOT send shearer's 'blanket'. Please take the time to remove the 'other' fiber around the outside of the blanket area. See skirting diagram link above. The feel of the yarn and or roving will be no better than the coarsest fiber present.
Only the blanket/prime/1st's are suitable for yarn processing.
We DO NOT process leg or belly fiber.
Remove all muddy and/or poopy fiber, as the washing does not remove mud or poop.
Remove fiber with excessive vegetation. If it crunches, toss it out.
Alpaca cria fleeces: In order to make the best yarn from these fleeces, keep the fleeces clean. It is very difficult to remove vegetation from cria fleeces. We suggest shearing the cria by the time they are 1 month old. If this is not possible, cover the fleece (i.e., Rocky sheep coats) over the winter and spring. Each animal usually requires 2 to 3 different sized coats but will last for many years and can be reused. Cria fleeces will be dehaired prior to carding if they were not shorn around 1 month old as this removes dead tips.
No musty smelling fleeces
Keep nail/hoof trimmings away from fiber. If nail or hoof bits are found in the fiber, fiber will be returned. Wait to do the trimming until the fiber has been collected. Sweep area after each animal.
Please fill out a separate order form for each lot.
For information regarding blending fiber options please explore Ashland Bay and Foxglove Fibers.
Fiber processing (what YOU can expect)
What you can expect when you send your fiber to us:
We will communicate via email with you during the time your fiber is with us. Please respond to our questions to ensure timely processing. Upon receipt, your fiber will be evaluated for staple length, vegetation and cleanliness. You 'order' will be added to the production calendar, given an approximate completion date (approximately 6 months from when the fiber ARRIVES at the mill) and an estimate of processing cost.
50% deposit required prior to the start of processing.
Upon completion of your order we will send you a final invoice.
We are happy to advise on processing ideas if the customer has an idea of what is a desired final product. (i.e. yarn to sell, yarn for personal use, other…)
Note to customers: Outstanding accounts will be assessed a 5% charge on any balance due over 30 days and for each additional 30-day period the account goes unpaid. Fiber/yarn from accounts unpaid after 30 days will become the property of Sallie's Fen Fibers LLC.

Processes at the mill:
After the fiber arrives at the mill, all fiber will be washed in-house. Then, depending on the desired final product and order form specifications, the fiber will proceed through some or all of the following processes on the flow chart below. Please refer to Belfast Minimills (follow the link below in Contact Us) for details on each machine.

Dehairing: Our fiber separator improves the "Comfort Factor" of your product significantly! It achieves this by removing prickly guard hair, as well as most vegetation and short "second cuts". Loss can vary from less than 10% to as much as 50% depending on the quality and cleanliness of your fiber, but you end up with a much more skin-friendly and valuable result.





CONTACT US

Please contact Sallie Whitlow with any questions

186 Swain Rd Barrington, NH 03825
Phone: (603) 664-5237
email: sallie.whitlow@gmail.com
The mill store is open by appointment only except for the weekends following Thanksgiving and until Christmas.

Other points of interest and education:

Belfast Minimills
Sky Like Snow (yarn processed at Sallie's Fen Fibers)
Snow Shoe Alpaca
NEWAIM Fiber Mill
Ashland Bay
Foxglove Fibers
Sallie Fen Alpacas