Welcome to
Sallie's Fen Fibers,
LLC
We provide custom minimill processing of YOUR fiber into beautiful yarn, roving and batts!
New prices apply to all fiber submitted after October 15, 2017.

FIBER ONLY BEING ACCEPTED BY PRIOR ARRANGEMENT
***
Skein washing instructions (pdf)


Preparing your fiber for processing
click image for additional information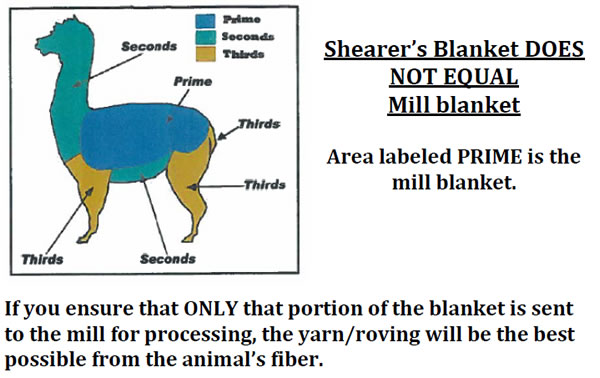 ***PICK-UP**** We are available to pick-up fiber &/or drop off finished product at many alpaca events in New England(call in advance please!)
About us - Sallie has been in love with natural fibers for as long as she can remember. She is an expert knitter and long-time hand spinner. She first became interested in alpacas (back in 1994) through working with their beautiful fleece. Sallie specializes in processing alpaca, but also loves to experiment with blending and processing other fibers including sheep's wool and silk.
Sallie's skein, mill-spun from fiber from our alpaca Huacho's Sheherazade, received a BLUE RIBBON and score of 98 out of 100 from MAPACA 2008 Fiber Arts Judge Wini Labrecque!!
At the 2010 MOPACA INVITATIONAL ALPACA SHOW another of Sallie's skeins received a full 100 points out of 100!
3 lb minimum per lot
- All pricing is based on minimum lot size of 3 pounds. A lot is the amount of fiber to be processed in one run. If you wish to have a special fleece processed separately, you will be charged for a minimum of 3 pounds. We recommend that you combine like-colored fleeces, or combine more than one year's fleece harvest for an alpaca who doesn't meet this minimum.
Please fill out a separate order form for each batch
Blanket fleece or "firsts" only please - our equipment doesn't handle the coarser fibers very efficiently.
All fleece should be well skirted prior to shipment and be a minimum of 2 inches and a maximum of 6 inches in length.
ALL fiber will be washed

Dehairing: Our fiber separator improves the "Comfort Factor" of your product significantly! It achieves this by removing prickly guard hair, as well as most vegetation and short "second cuts". Loss can vary from less than 10% to as much as 50% depending on the quality and cleanliness of your fiber, but you end up with a much more skin-friendly and valuable result - even if you don't have time to skirt your fleeces (remove armpit hair, hay, etc) before sending them to us.


If you wish us to wind measured yardage skeins, please specify desired yardage


Prices subject to change without notice
We reserve the right to reject fiber not suitable for processing (extreme vegetation, too long, too short, tender, moths, mould, etc.)
We will communicate via email with you during the time you fiber is with us. Please respond to our questions as this will ensure timely processing. Upon receipt, your fiber will be evaluated for staple length, vegetation and cleanliness. You will be added to the production calendar and given an approximate completion date.

Upon completion of your order, we will send you a final invoice. Your products will be shipped to you once your payment is received.

Outstanding accounts will be assessed a 5% charge on any balance due over 30 days and for each additional 30 day period the account goes unpaid. Fiber/yarn from accounts unpaid after 90 days will become the property of Sallie's Fen Fibers LLC.
Approximate Cost for your own yarn back: Multiply # of lbs submitted by $23 = Total Cost (assuming no special services and no dehairing)

If you have comments or suggestions regarding this website please email sallie.whitlow@gmail.com

Last Update: September 2017